Heidi Fourie has been collaborating with the David Krut Workshop (DKW) since 2017, where she first produced watercolour monotypes. Fourie is predominantly a painter and took effortlessly to the monotype process – known as the painterly print. Fourie has been presented at art fairs and included in group exhibitions at David Krut Projects in Johannesburg. In 2021 Fourie had her first solo exhibition with us titled Grass You Can Swim In, showcasing new monotype prints, drypoint editions and paintings.
Heidi Fourie's new body of work for Grass You Can Swim In consists of paintings, monotypes and etchings, and is like a day walking out in an open stretch of Highveld grassland in mid-winter. The air and the earth are dry; the light is crisp in the morning sun, quiet at noontime when the myriad insects hiding in the grasses rest under the bright height of the sun, and the whole landscape is gold-leaf lit by the early-setting sun as the temperature drops and the day draws to a close.  
In March 2020, alongside or in the wake of most countries on the planet, South Africa went into lockdown as a means to curb the spread of the Covid-19 global pandemic. For Heidi Fourie, this meant not only a serious curtailing of plans for her work – including the postponement of her solo show with David Krut Projects, from 2020 to early 2021 – but also a restriction on her ability to tap into natural environments through hiking and kloofing as a way to ground herself.  
During the first few weeks of hard lockdown, when people in South Africa were permitted to leave their places of residence only for food and medical supplies, Fourie found herself listening to recordings of nature sounds and footsteps crunching on gravel. When short walks became permissible again, she searched for tufts of tall weeds and grasses growing on the roadside, picked them and brought them home to create grassy bouquets, which she placed all over her house. When finally more movement was allowed, she set off once again with her GoPro and stills camera to explore more natural spaces. For many months, movement between provinces was restricted, and so Fourie was obliged to seek out wild spaces in Gauteng, which, as she puts it, is not considered the nature destination in South Africa. She soon discovered that, contrary to popular opinion, there is much to be found in the Highveld grasslands surrounding the major centres of Gauteng.  
Dipping into the tall grasses to photograph the landscape from low angles, Fourie was met with the long, sweeping strokes of the swaying stems and wispy leaves, in subtle variations from green to gold – a delight seen through her painter's lens. Additionally, Fourie discovered a secret wealth of sound, life and movement. These hyperlocal grassland meanderings revealed to Fourie the abundance she might have overlooked, had she not been stuck in one place for so long. As environmental author, David Farrier, has so aptly put it: "Being restricted in where we can go offers new opportunities for noticing where we are." 
On the other side of the planet in Scotland, also in lockdown, Farrier's writing on his quest to find ways to get lost in places most familiar to him, echo some the sentiments reflected in Fourie's body of work. Farrier writes about desire paths – those paths that, unlike roads that are designed to take you from one place to the next in a linear fashion as quickly as possible, are based on intuition: "Paved roads show us where we ought to go, but desire paths are made when we step off the road and let our hearts decide the way."
Edition Variation - 'Unsuspecting Individuals'
Unsuspecting Individuals is a series of drypoint editions that have been handworked using pencil, colour pencil and watercolour to create variations of the same image.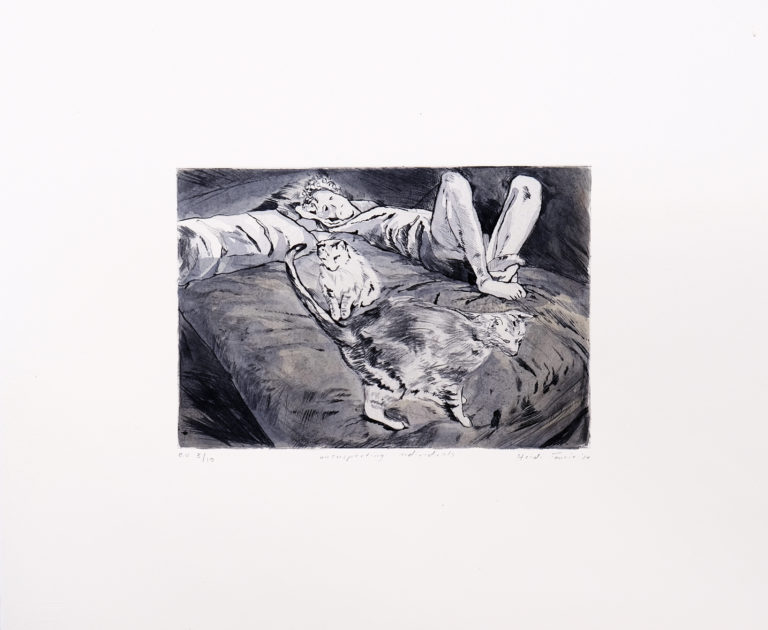 Heidi Fourie at the David Krut Workshop
Artist and Printmakers Collaboration at the David Krut Workshop at Arts on Main in Maboneng, Johannesburg
Fourie has chosen, for this body of work, to experiment with a medium that is new to her, collaborating with Printer Kim-Lee Loggenberg on a series of etchings. The process, for Fourie, has been not dissimilar to the creation of desire paths: learning the language of a new medium through intuitive choices, made possible by the support of an experienced technician. Guided by almost-imperceptible shifts, a sense of the malleability of copper and acid when combined, and the capricious effects of extreme pressure, Fourie has navigated the feathery burr of the drypoint line, the fluctuating tone of spitbite aquatint and the distinct, harder-edged depth of the sugarlift aquatint mark. The etchings resonate with the monotypes and paintings in their fluency of line, sensitivity to light and shadow, hushed fields of colour, and provide additional insight into a period of isolation. 
In both prints and paintings, figures are not entirely absent, but where they are depicted, they are always engaging with the environment they are depicted within. Fourie talks of her relationship with the natural world as "complex and turbulent" and of this time in isolation as a time to reflect on the impact we humans have on the wild spaces that still exist, ever-diminishing. The Highveld grasslands themselves are a good example of the human species' impact on the planet, as a once-expansive but now severely fractured habitat as a result of anthropogenic changes, including those dictated by commercial agriculture. For Fourie, hands have become emblematic of the relationship between a figure and the landscape in this body of work, as if "A hand stroking grasses, feeling its way through it or altering it could remind us of our fumbling through life and learning how to live in harmony with nature and one another."  
Returning to Farrier's contemplations of his own experience of lockdown, despite being written in a different context, on another continent, the following passage offers a counterpoint to Fourie's exhibition Grass You Can Swim In, and a lens through which to appreciate it: 
"The time we're living through feels borrowed against a future which is no longer guaranteed. There are glimpses of what the new world could be like—slower, quieter, more given to care […] The transition from old to new seems far from clear. This is why, I think, I keep looking for new ways to get lost, even briefly, in places that are most familiar to me. Discovering another way to join two points I have always connected by the same traverse yields a richer, more densely knotted sense of place. It shows me that, in the midst of constraint, new discoveries are possible." 
– Text by Jacqueline Flint, 2020.
Inside The Artist's Studio
Ame Bell and Britt Lawton from the David Krut Gallery team visited artist Heidi Fourie at her studio in Pretoria to view her latest paintings and catch up on current projects. Take a listen to Heidi Fourie speak about her artistic practice, her processof painting, the influence of lockdown on her creativity, working with the printmakers at the David Krut Workshop, her experience of printmaking and her upcoming solo exhibition.