2020 Collaborations & Projects
We reflect on a few of the exciting projects and collaborations that took place in the year 2020. This includes projects with Olivia Botha, Nina Torr, Patrick Rorke, Maja Maljevic, Zhi Zulu and Heidi Fourie.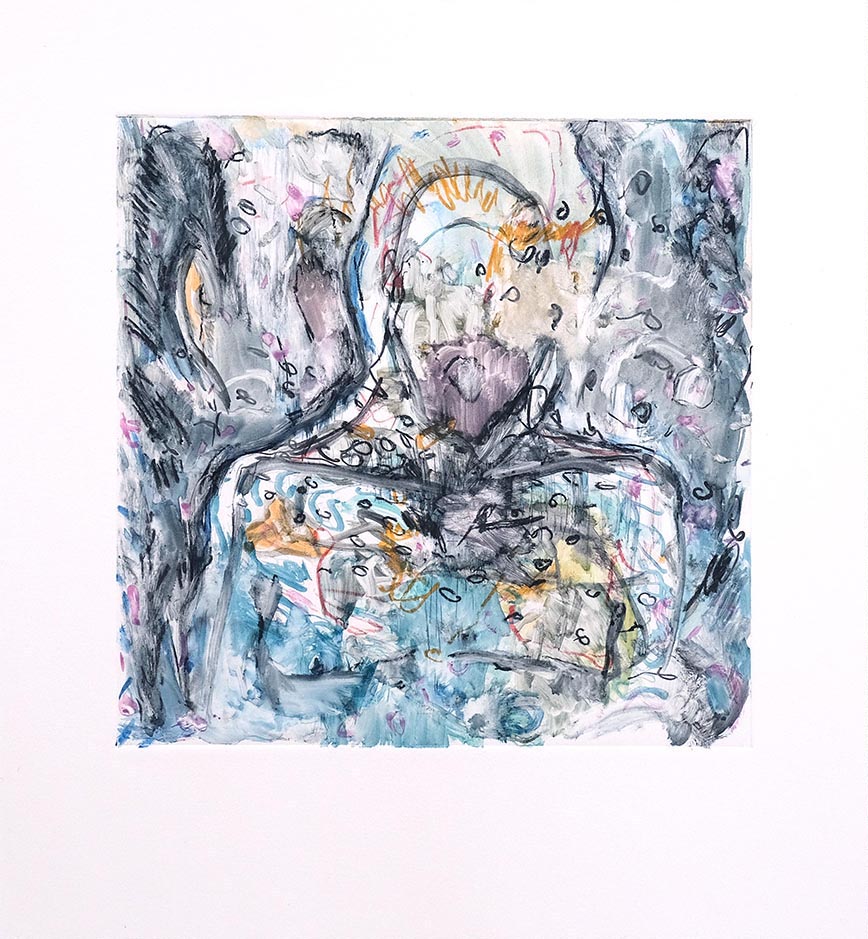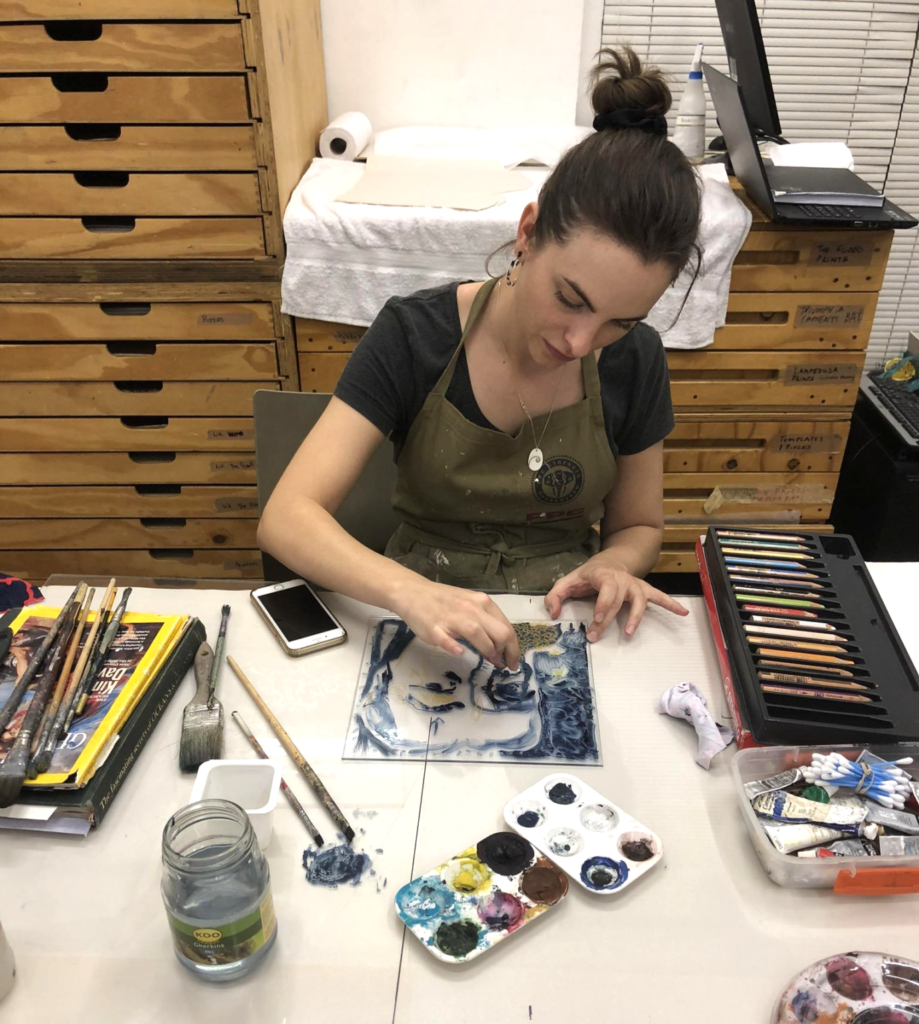 In her subject matter for this project, Botha explores what it means to be human in relation to storytelling, unpacking ideas about identity and the concept of finding one's place in the world through a collection of intuitive portraits made using various monotype techniques.
Using a painterly approach, Olivia Botha constructed loosely painted portraits from memory of subjects found in books, photographs and on the internet.
Botha describes her experience of working on prints for the first time as "being blind-folded and not really knowing what to do." Botha's uncertainty created an exciting sense of anticipation of how her marks, made on a Perspex plate, would translate into a print on paper. Botha's unfamiliarity with the process allowed her to engage freely and intuitively with the plate, incorporating a sense of free play that stirred her imagination.
An Untold Tale III, 2020. Watercolour monotype with Stablio Woody. 35.9 x 33.3 cm. R 2 420 VAT incl. unframed.
Olivia Botha, an accomplished multi-disciplinary visual artist working predominately in painting, collage, installation and video performance. Botha expanded her practice into printmaking through a collaboration with the David Krut Workshop at Arts on Main in Maboneng, Johannesburg, South Africa. In March 2020, she spent some time exploring the monotype technique, experimenting with the unpredictable translation of her mark into print.
In early 2020 a series of unique works from Maljević's recent print series (Document for the People. and Winter Files) were reviewed with the intent of creating editioned variations of such. The printers at David Krut Workshop (DKW) dissected and then reconstructed elements of the unique works selected. This is the story of how the series evolved and were finally created with the artist in a time of Covid.  
Nitty-Gritty, 2020  – R 8 650 VAT Inclusive framed 
Pokret, 2020 –  R 6 870 VAT Inclusive framed
In February 2020, Pebofatso Mokoena had his solo exhibition titled Internal Probes. This exhibition comprised of unique mixed media works made using silkscreen, drawing and collage; editioned works; and large-scale painting. The artworks explored ideas surrounding transport and the movement of people. In particular, Mokoena's interest is focused on the way people move back and forth between their homes and the city in order to pursue work, play and pleasure; and how they organise themselves through transportation as safely and as efficiently as possible.
"This monotype has deep roots in my own practice of drawing. It is a monotype but still, it is essentially a drawing. It is a drawing, I like to think, that might have been drawn by a sculptor. In this drawing, I am trying to get a sense of the volume of this doorman's face. There is a point, right at the middle of a drawing that everything turns around. I feel that at that point, I have a reasonably successful drawing."
Nina Torr's work invites the viewer to take up the mantle of explorer in her imagined worlds. For Torr, making is a way to uncover or reveal knowledge, rather than the product of it. Torr's world shows itself to her through what she describes as 'pangs' and 'clicks', results of attunement to intuitive, rather than explicit understanding, or the ability to explain or talk about something.
Leftover (2020) and Placeholder #4: Hesitation (2020) were part of Nina Torr's Masters Exhibition titled Wayfinding, which was hosted at David Krut Projects in February 2020.  
Zhi Zulu created this silkscreen print during her second collaboration with the David Krut Workshop (DKW) which took place in 2020.
Bridge Over Troubled Giraffe (2020) is part of a growing series of silkscreens, inspired by the artist's experience of African stories being told for tourists and foreigners. 
R 2 070 VAT incl. Unframed
R 3 105 VAT incl. Framed
Heidi Fourie has been collaborating with the David Krut Workshop (DKW) since 2017 where she first produced watercolour monotypes. Fourie is predominantly a painter and took effortlessly to the monotype process– known as the painterly print. Fourie has been presented at art fairs and included in group exhibitions at David Krut Projects in Johannesburg. 
In 2021, Fourie will be having her first solo exhibition showcasing new monotype prints, drypoint editions and paintings.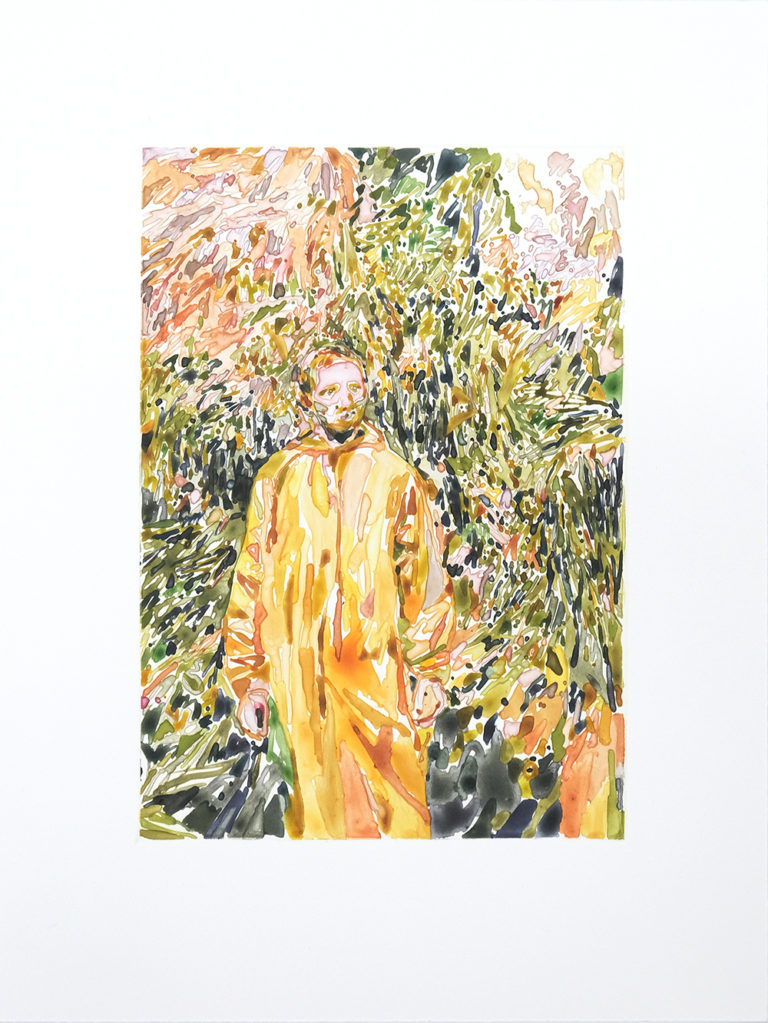 Helena Uambembe's fastidiously crafted military scenes featuring Camo green and gunmetal grey are used to emphasise the brutality of war and the devastation it leaves in its wake.  The backdrop of many of the artist's new works are taken from photographs given to her by a South African colonel who fought in the border wars in the 70's. Helena's father was part of the same war, recruited by the South African government after fleeing Angola.  
Helena's recent body of lithographic prints were made in the David Krut Workshop with the assistance of printer Roxy Kaczmarek. 
In this episode of the David Krut Podcast, artist Helena Uambembe speaks to Britt Lawton about her artistic practice; her interest in the archive; personal identity; language & working at the David Krut Workshop on a collaborative project in 2020. 
Stephen Hobbs & Dieulv Zeng Tshingej
My family and I relocated to Ireland in December 2019, by late January 2020 we found a rental in a village surrounded by farmlands, 30 minutes North of Cork City. In the months leading up to the national lockdown in April, we had the chance to explore a little and make sense of a country that would represent home for the foreseeable future. It is close to a year now, since arriving in Cork, we think we have learned a lot about the world, about the place where we live and about distancing and distance. In the lead up to Pictures Worth a Thousand Words at David Krut Projects' The Blue House, I was introduced to a young film animator Dieulv Zeng Tshingej who since early November has collaborated with me on T56KC89, a short animation about the sense-making of history, geography and place in today's uniquely abstracted world. – Stephen Hobbs
Reference: David Sweetman, The Medieval Castles of Ireland, The Boydell Press. 2000
David Krut Collective & Associated Artists
Artists who work within the David Krut Workshop or Project space –  namely Chad Cordeiro, Sbongiseni Khulu, Sarah Hunkin, Roxy Kaczmarek & Mthabisi Sithole. And artists who are affiliated with the David Krut community – Maaike Bakker, Elize De Beer, Paul Senyol & Claire Zinn.
The presented works, 'How to get there I & II'  offer a selection of collaged fragments that might evoke a chart or a map of sorts. These fragments imply possibility and allow viewers to treat them as a set of cues or clues that can be combined by the viewer in order to map out their own journey or to arrive at their own conclusion. 
The works were made during lockdown level 5. During this time I found myself forgetting things quite easily which might have been a result of the monotony of each day or could have been an outcome of an overwhelmed mind that is trying to piece together the reality at hand. These fragments may represent different facts or bits of information that are at times at odd with each other or that require to be grasped or made sense of.
Hold Back the Night is an 11-colour reduction linocut. Zinn wanted to explore a transition from grey to colour which reflected the movement out of our pandemic lockdown. The title is a statement of optimism and a quiet rallying cry. 
Claire Zinn's To Live with Caution not with Fear Series was inspired by the theme of vanitas (showing the symbolic transience of life). The works feature tangled plants bordering imagined landscapes that are at once threatening and beautifying the life of the intrepid paddling figure. Each layer of colour is cut from the same linoleum matrix starting with the carving and printing of the lightest colour and ending with the darkest. This technique mirrors the theme of the works in that once the subsequent layer is carved it is permanently changed. Similarly if the registration is off or the paper is damaged you cannot replace it. 
Confined to our homes during lockdown and unable to gather my usual visual inspiration while commuting through the city, my house plants, garden and collection of cuttings became my subjects. These plants became an adequate reflection of the stillness during lockdown – along with continuous growth. 
Roxy Kaczmarek is an artist and printer from the David Krut Workshop. Take a listen to this episode of the David Krut Podcast where Roxy gives us insight into her artistic career, shares experiences from working in various printmaking workshops, talks about how nature and her surroundings inspire her, elaborates on working in her home studio, and so much more!
Engaging the audience in thought and conversation surrounding water conservation as well as some less obvious connotations was the original intention of the artwork. Derived from a mural I did for the city of Cape Town in 2018 during the height of the water. The child in the artwork is from a B&W film portrait I took of an amazing young boy in the local Woodstock community.
R 9 030 VAT Inclusive framed each
This series of works formed part of my latest solo exhibition at Salon Ninety One (Cape Town), Memorial, and foregrounds an introspective consideration of living and dying with regard to the recent pandemic, but in the body of each painting I have chosen to focus on the complexity of a unique, lived experience within a shared reality. Lockdown has given me the means to connect with the individual character of each work through more extensive planning and refining of paintings. As sites of reflection, the works in Memorial carry in them my experience of a particular international reality while becoming, over time, unique markers for looking back at this moment in history. Twelve Stories is my attempt to create a grid of 12 works which is one piece, yet at the same time each piece functions as a unique individual. The challenge was to create a series of artworks that are mutually complimentary in relation to each other, and in some way offer a reflection of humankind as a whole. 
Paul Senyol is an abstract painter who reflects the details of everyday life, paired down to an empathy with colour, line and form. His solo exhibition at David Krut Projects was titled Markers – take a listen to the David Krut Podcast episode to find out more about his artistic practice.
When one starts to see beyond one's self they're able to see the girls standing on the side walk waiting for work, or the make shift room under a tree. One can never really see what's in front of them unless they look beyond themselves.  Beyond their own thought pattern, beyond a daily routine, beyond Joe Slovo Drive. 
What if our very being is based of off an illusion? A single objective with which we were lulled into a state of continued survival. It is by this illusion of choice that we can say we won the race, we exist, but at what cost. An involuntary response to environmental stimuli… definition, tricked.
'Swing-set' is 1 of 4 linocut plates I started working on through the Danger Gevaar Ingozi studio in 2016.

 

I took my relationship with poetry as a starting point to making marks on the plates. The process of carving them was initially idealised as adapting some of my poems to visual media.

 

That then evolved into an exploration of my relationship with poetry and considering meaning-making through visual means. Printing some of the plates in 2020, I found that I am still in poetry as a means of understanding and engaging processes of making and being. 
Waiting for Inspiration is a work that was made during lockdown, I wanted to try and make something and found very little inspiration or creativity within me. It was hard seeing on social media that so many people around the world were taking this hard lockdown time to be productive and were motivated to work and make things. I was the opposite and found it a very difficult time. I was just waiting of inspiration. This artwork grew from that where I deiced to just draw the first thing that came to mind, a writing desk, a place where creatively flows but also where the creative blocks can be firmly grounded. Through making the work I found peace with my non-productive lockdown and joy in just creating something simplistic and honest.
Hidden scrolls of Nostlagia I & II and other recent related bodies of work focus on sculpting and painting to signify the transmission of messages as a process drawn from my art making ritual. The library of scrolls are the collection of secret data from the artists' travels. 
As a 'sender' Rukavishnikova deciphers messages from her journeys for the viewer to decode. 
Hidden scrolls of Nostlagia I & II (2020)
Unique mixed media work on paper 
77 x 27 cm  
R 7 600 VAT Inclusive framed  (Each)