Rorke, McCrickard & Sanders
David Krut Projects presents a selection of new work by renewed interactions with established artists and makers. This includes work made with first-time collaborator Patrick Rorke, and renewed interactions with long-standing collaborators Kate McCrickard and Master Printmaker Phil Sanders.
Patrick Rorke is an artist and painter based in Morija, Lesotho. He has been active as an artist for over forty years and is considered a master of contemporary art in Lesotho. In Morija he runs a contemporary art gallery and frequently organises exhibitions, events and festivals. His work is about his surroundings and the compelling but fragile existence of the people within this landscape.
This October (2020), Patrick was in residency at the David Krut Workshop at Arts on Main, Maboneng, where he explored the technique of painterly prints in the form of watercolour monotypes with our team of printers. Please visit the David Krut Workshop blog, to read about his stay with us.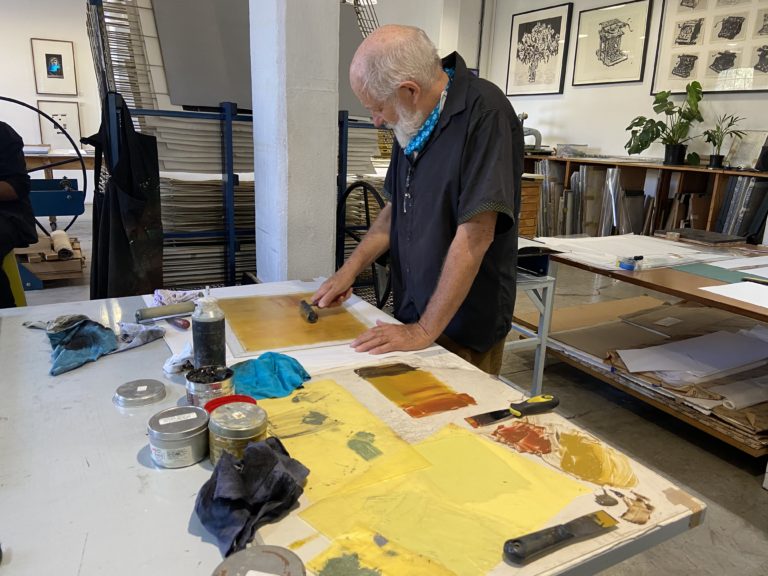 Visit Patrick's website to view more of his works and read about his story of being involved with the Constitutional Court, for which he made the sunscreens on the windows along one side of the building.
Kate McCrickard is a British painter, printmaker and writer based in Paris, France. McCrickard is a prolific printmaker and has worked with various print studios, as well as making use of her own printing press at her home studio. McCrickard has been working with David Krut in many different capacities for a number of years – as gallery director of the David Krut Projects' New York space; as writer and contributor to various shows and publications, most notably on the work of William Kentridge and also the TAXI Art Book on Paul Stopforth.
In addition to these roles, McCrickard has worked with the David Krut Workshop (DKW) to produce etchings, and held two solo exhibitions of her work at David Krut Projects (DKP) in New York. Her first solo exhibition at DKP New York was in 2012 entitled Kid. A second solo show titled This is my proper ground was presented in 2015.
Swimmers (2020) is the artist's most recent edition and was selected for the 2020 Royal Academy Summer Exhibition – taking place online until 2 December 2020. 
Prints and Their Makers takes you behind the scenes to witness the creative processes at the world's top printmaking workshops. Master Printer Phil Sanders offers and in-depth look at this versatile medium and places contemporary prints and practices in the context of traditions and techniques developed over more than a thousand years.
Using clear and engaging explanations to illuminate the seven major printmaking processes– relief, intaglio, lithography, monotype, screenprint, photogravure, and chine collé – following projects from start to finish. Over 400 images (160 full pages) illustrating works by more than 150 artists including: Albrecht Dürer, Marry Cassatt, Andy Warhol, Julie Mehretu, William Kentridge, Chakaia Booker, James Siena, Will Cotton, Hank Willis Thomas, Terry Winters, Cecily Brown, Elizabeth Peyton, and Martin Puryear accompany the text for a visual exposé of the power of printmaking.
Published by Princeton Architectural Press and distributed by Chronicle Books.
Featured inside the book are several images of the collaboration between Phil Sanders and our printmaking team at the David Krut Workshop