introducing a new collaborative project
Jillian Ross Print and David Krut Projects is pleased to present a new body of work through an exciting collaboration between William Kentridge, Master Printer Jillian Ross and the David Krut Workshop, together with photogravure experts, Steven Dixon in Edmonton, Canada and Zhané Warren in Cape Town, South Africa.
Standing in the fallout of a global pandemic one takes a retrospective look back at the various drastic adaptations that humanity has very recently undergone. Ushered suddenly into an unanticipated international state of emergency, every sector of contemporary society was forced into an accelerated state of evolution to adapt to a constantly changing work environment. 
This collaborative project is a continuation of a process that began as an innovative solution aimed towards creating a series of prints within the confines of self-isolation over great geographical distances. Spanning over three continents, this project seeks to explore and expand on the inventive processes that artist William Kentridge and Master Printer Jillian Ross have developed to collaborate on the creation of a new body of prints.
The history of this collaboration began twenty years ago in 2002, when David Krut established his own print workshop in Johannesburg, after which William Kentridge became a frequent collaborator with Master Printer Jillian Ross and her team at the David Krut Workshop.
Kentridge has worked with Jillian Ross and the David Krut Workshop on various large-scale print series, including The Nose series from 2006 to 2010, The Universal Archive from 2012 to 2016, The Triumphs and Laments Woodcut series from 2016 to 2019, and, currently,  the Studio Life series since 2019. Other collaborations include The Magic Flute Doves, L'Inesorabile Avanzata, and various other prints that were created alongside Kentridge's ongoing theatre and film productions.
In 2020, after 16 years of working at the David Krut Workshop as the Master Printer and Director of the workshop, Ross returned to Canada where Ross and her partner, Brendan Copestake, opened a collaborative print studio in Saskatoon, Saskatchewan.
This body of prints is a culmination of three years of collaborations between studios and highlights the unique skills and practiced techniques of the individuals in each studio. It is a collaboration where all come together to make sense of a renewed working practice through gravure printmaking. 
During numerous COVID lockdowns around the world and not having the ability to travel and work collaboratively in person, Kentridge suggested the age-old method of photogravure as a methodology of working together while remaining  in isolation. 
Concurrently, in his Houghton studio, Kentridge was working on a new film series based on his 'studio life' practices. This period of isolation allowed Kentridge time for a sustained investigation into the significance of the studio in his making, his meaning, and his working processes while not yet understanding the lasting effects to come from COVID-related events.
Through the lens of film stills, cell phone photos, and hi-res photographs, a new body of gravure prints emerged as part of Kentridge's Studio Life which has developed in film, drawings, mixed media artworks and in print.
Published by Jillian Ross Print and David Krut Projects. 
Collaborating Printer, Jillian Ross
Photogravure by Steven Dixon, Luke Johnson, Alex Thompson (Edmonton, Canada) with Zhane Warren (Cape Town)
Editioning and image development at David Krut Workshop (Johannesburg South Africa)
Editioning printers, Kim-Lee Loggenberg, Sbongiseni Khulu, Roxy Kaczmarck and Sarah Judge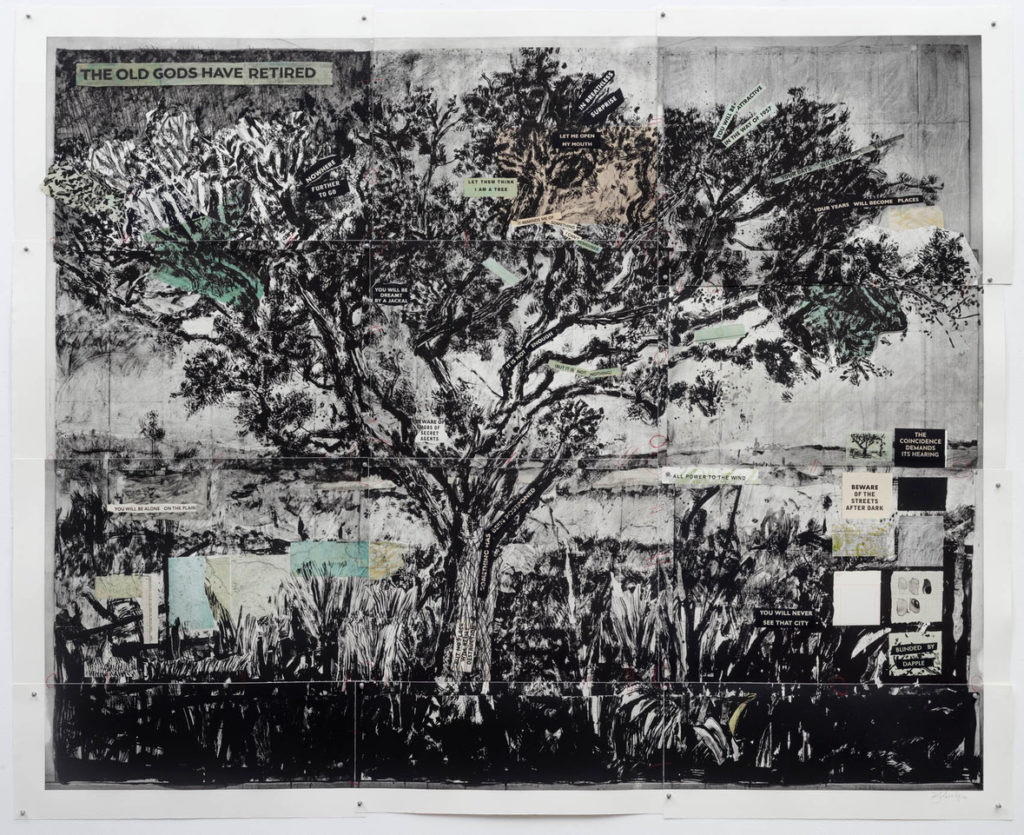 The Old Gods Have Retired 
Year: 2022
Medium: Photogravure, sugarlift aquatint, direct gravure, drypoint and handpainted chine collé
and collage papers on 12 overlapping sheets of Hahnemühle Natural White, 300gsm.
Papers include found ledgers from early 1900's, encyclopedia paper and others.
Paper size: approx. 1.745m x 2.147m
Edition: Trial Proof III
Price on request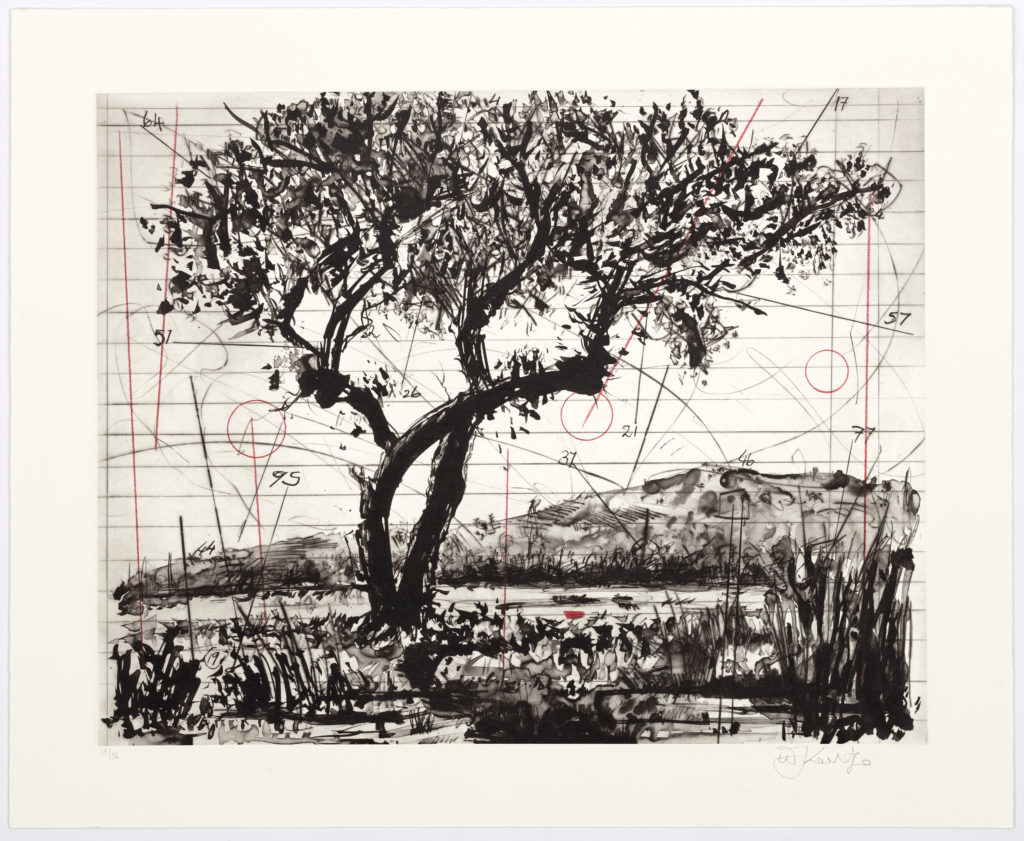 Year: 2022
Medium: Direct Gravure and drypoint with red pencil on gampi 20gsm
Paper size: 56.5 x 62.9 cm 
Edition of 36
Price on request
Tree (Century Dictionary)
Year: 2022
Medium: Drypoint and hand-painting on non-archival paper from The Century Dictionary, Vol. I (1914) and adhered to Hahnemühle Natural White, 300gsm. Hand-painting by the artist.
Paper size: 30.3 x 37.2 cm
Edition of 20
Price on request
Year: 2022
Medium: Drypoint and hand-painting on non-archival paper from the Encyclopedia Britannica, Vol V (1911) and adhered to Hahnemühle Natural White, 300gsm. Hand-painting by the artist.
Paper size: 37.5 x 30 cm 
Edition of 20
Price on request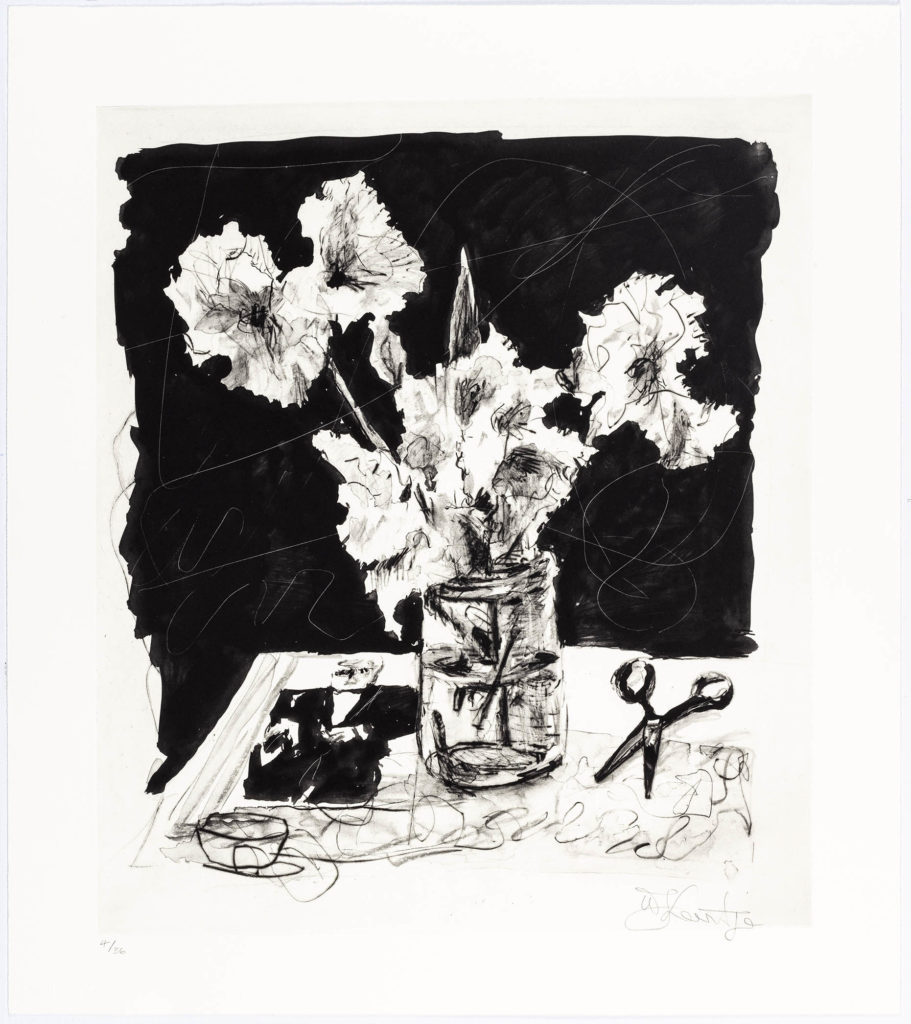 Beckmann's Self-Portrait with Jam Jar and Scissors 
Year: 2022
Medium: Direct Gravure and drypoint on Hahnemühle Natural, White, 300gsm 
Paper size: 56.5 x 50 cm 
Edition of 36
Price on request
William Kentridge is a multidisciplinary artist – a printmaker, painter, sculptor, director of theatre and opera, a draughtsman, animator and filmmaker.
While he does not define himself as a "political artist", Kentridge is widely regarded as the go-to contemporary South African artist whose work cannot be detached from his country's recent history and fraught present. 
David Krut is the founder of David Krut Projects, an independent arts resource, which is active in Johannesburg, and New York.
David Krut became involved in the arts in 1973 when he project-managed the opening of a gallery in the Bond Street arts precinct of London. This was one of the start-up projects in various fields with which he was involved in the 1970s. 
Krut met William Kentridge at an exhibition opening in May 1992. Kentridge was about to leave for an exhibition of his work in London and Krut suggested he visit Shirreff, with whom Krut had by then collaborated on editions by various artists since the publishing of the Joe Tilson edition. Kentridge's visit to 107 Workshop enabled him to create numerous large format etchings and he continued to make visits to the workshop whenever he was in the UK. Krut's understanding of the range of work created by Kentridge, including video and theatre, led to him publish the William Kentridge CD-ROM in 1998, the first major publication on the artist's work.
Jillian Ross is a leading South African collaborative master printer and founder of Jillian Ross Print, a collaborative print studio working primarily with South African and Canadian artists, studios, institutions and galleries.
Before returning to Canada in 2020, Ross had been the Master Printer and Director of the David Krut Workshop (DKW) in Johannesburg, South Africa, for 16 years working with celebrated South African and international artists in collaborative printmaking.
Ross began her career in 2003 under the mentorship of David Krut. Master printers from the US and the UK assisted in the workshop expansion and training and in time Ross herself became a master printer, manager and director of the workshop.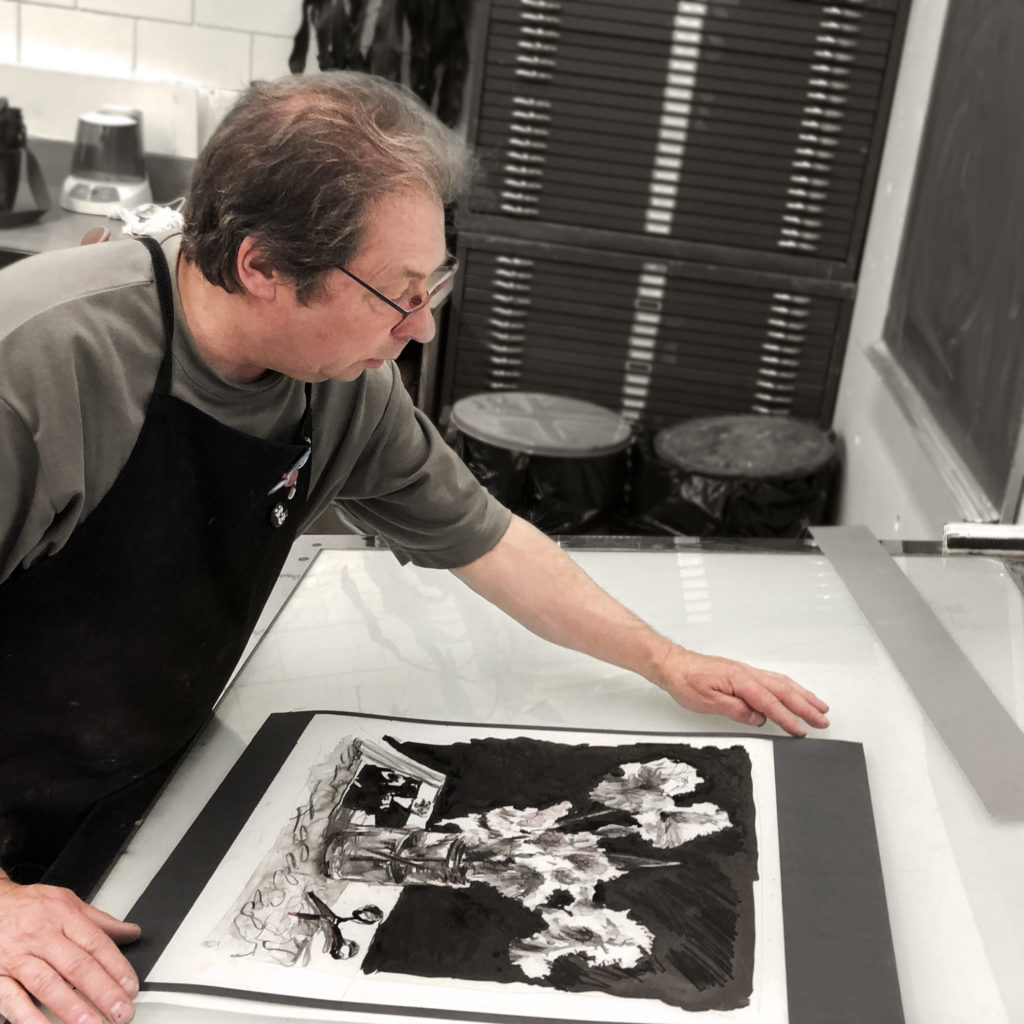 Steven Dixon is a Printmaking technician in the Department of Art & Design at the University of Alberta in Edmonton, Alberta, Canada. 
Steven earned his Master of Fine Arts degree from Arizona State University and has worked at the University of Alberta since 1986, where he specializes in intaglio and relief printing techniques and photographic processes. Dixon has extensively explored copperplate photogravure and researched the traditional process as well as digital approaches and direct gravure. He is listed as a contributor to Copper Plate Photogravure: Demystifying the Process by David Morrish and Marlene MacCallumand has presented lectures and workshops on the subject in the United States, Germany and Canada. 
Dixon is known for richly textured photogravures of abandoned factories, mills and mine sites.
He exhibits frequently and his work can be found in many public collections including the Alberta Foundation for the Arts, the Beaverbrook Art Gallery and the Art Gallery of Alberta. 
University of Alberta Printing Team
Luke Johnson is an artist and lecturer in printmaking and drawing at the University of Alberta in Edmonton, where he works with Steven Dixon.
Luke Johnson is originally from Minnesota, and currently based in Edmonton, Alberta on Treaty 6 territory. Working in print, photography, and durational engagements within collections,
Johnson draws from the stories and unintended afterlives of archival materials, creating works which complicate notions such as standardized categorization and stasis within systems of knowledge. He received his BFA from the University of Wisconsin-Madison, and his MFA from the University of Alberta, where he has taught since 2019. Johnson has shown his work in the United States and Canada, as well as internationally in Armenia, Australia, Finland, Poland,
Portugal, and Switzerland.
Thompson is an artist and printmaker who is part of the team of printers at the University of Alberta.
Thompson is originally from Brantford, Ontario. He studied printmaking at the Ontario College of Art and Design University, where he was awarded the medal in his program upon graduation, and is currently studying for his MA in Printmaking at the University of Alberta. He has exhibited at The Power Plant, Art Toronto, Nuit Blanche, The Artist Project, and Abbozzo Gallery in Toronto, along with Studio Sixty Six in Ottawa and Glenhyrst Art Gallery in Brantford.
Alex R.M Thompson's recent work unpacks the process of contemporary city building, drawing on the order/disorder of the construction site as its primary motif. The work deconstructs the familiar ubiquity of urban building, removing the necessary (and numerous) instruments of development from their regular contexts and orientations. Presented as a network of small components, each piece gestures towards the constant and overwhelming change in the city's social structure, and the sense of alienation that this state can bring.
Zhané Warren is a Master Printer and the owner of Warren Editions, a printmaking studio in Cape Town.
Zhané Warren established Warren Editions in October 2007 near the Cape Point Nature Reserve near Kommetjie, Cape Town. 
Warren is an expert in the photogravure platemaking process and is responsible for the making of the photogravure plates used in the William Kentridge Studio Life series.
Kim-Lee Loggenberg (1987) has worked as an editioning printer and collaborator at the David Krut Workshop since 2013.
Kim-Lee specialises in intaglio printing and takes a special interest in the application of chine-collé and the creation and printing of water- and oil-based monotypes. 
Kim-Lee's notable recent collaborations include Studio Life, a Photogravure series with William Kentridge and the making of monotypes and etchings with Heidi Fourie.
In 2017 Loggenberg was integral in the printing of Deborah Bell's large-scale etchings and Mikhael Subotzky's photogravure project with visiting United States-based Master Printer, Phil Sanders.
Sbongiseni Khulu (1990) is a printmaker at the David Krut Workshop, having joined in 2015.
Khulu's eye for detail and recognition as a perfectionist in the workshop is reflected in the projects he works on. Sbongiseni has been a key individual in the production of the recently completed large-scale print project for artist William Kentridge titled Triumphs and Laments Woodcuts (2016 – 2021). Triumphs & Laments is a series of six large-scale, multiple-plate woodcuts with collage. Sbongiseni has been part of the core editioning team of printers and is the head carver and has run the final post-production on the project.
Sbongiseni is a founding member, alongside Chad Cordeiro and Nathaniel Sheppard III, of Danger Gevaar Ingozi Studio, which was  established in 2016.
He is an artist in his own right and his work embodies a depth of introspection and honesty as well as a certain level of inquisitiveness towards the status quo within the controlled precision of an artist with the utmost attention to detail.    
Sarah Judge (1995) is a printer who joined the DKW team in 2018 after graduating from WITS University.
Since joining the DKP team, Sarah worked closely assisting Master Printer Jillian Ross with the complex project for William Kentridge, Triumphs & Laments Woodcuts series (2016-2021) of six life-size, multiple-plate woodcuts with collage making books and post-production. 
Sarah's own artistic work is situated in and around the urban of the larger Johannesburg and uses linocut printmaking as primary her medium but explores with other printmaking techniques. Her interests lie in challenging mundane ways of making marks and or imagery. The process of coming to an artwork plays a big part in her practice. 
Roxy Kaczmarek (1990), is a printer at the David Krut Workshop who coordinates printmaking project management, post production and daily running of the workshop.
Originally from Cape Town, Roxy joined the David Krut Workshop team in 2017 as a part-time staff member. She had moved up to complete her Masters at the University of Johannesburg and her initial role was administrative but in 2019 she joined the team full-time and began working on projects as a printer and collaborator.
Roxy established a home-based silkscreen studio in 2019 to allow her to broaden her own practice. The equipment has been utilised for DKW projects such as illustrator Zhi Zulu's continuation of her Curious Five series and multi-media works by artist Pebofatso Mokoena for Internal Probes (exhibited in Johannesburg, 2020); silkscreen printing for Mikhael Subotzky's Humorism after Elliot, silkscreen printing for multiple process prints with Maja Maljević and Latitudes Limited five-colour silkscreens with artists Sthenjwa Luthuli, Pebofatso Mokoena, Mbali Tshabalala, Adejoke Tugbiyele and Clint Strydom created for the first edition in 2019 of the Latitudes Art Fair in Johannesburg. 
She has worked on a number of publishing projects including post production for William Kentridge's large-scale series Triumphs and Laments Woodcuts and text contributions and production of Deborah Bell's 2018 book Invocations to the Plate. 
Roxy teaches at the University of Johannesburg part-time and has run workshops related to the DKP gallery programme.