Kunanela iphuzu emafini /
Echoes of the Point Cloud
Made at the David Krut Workshop
Mixed Media Collages on Canvas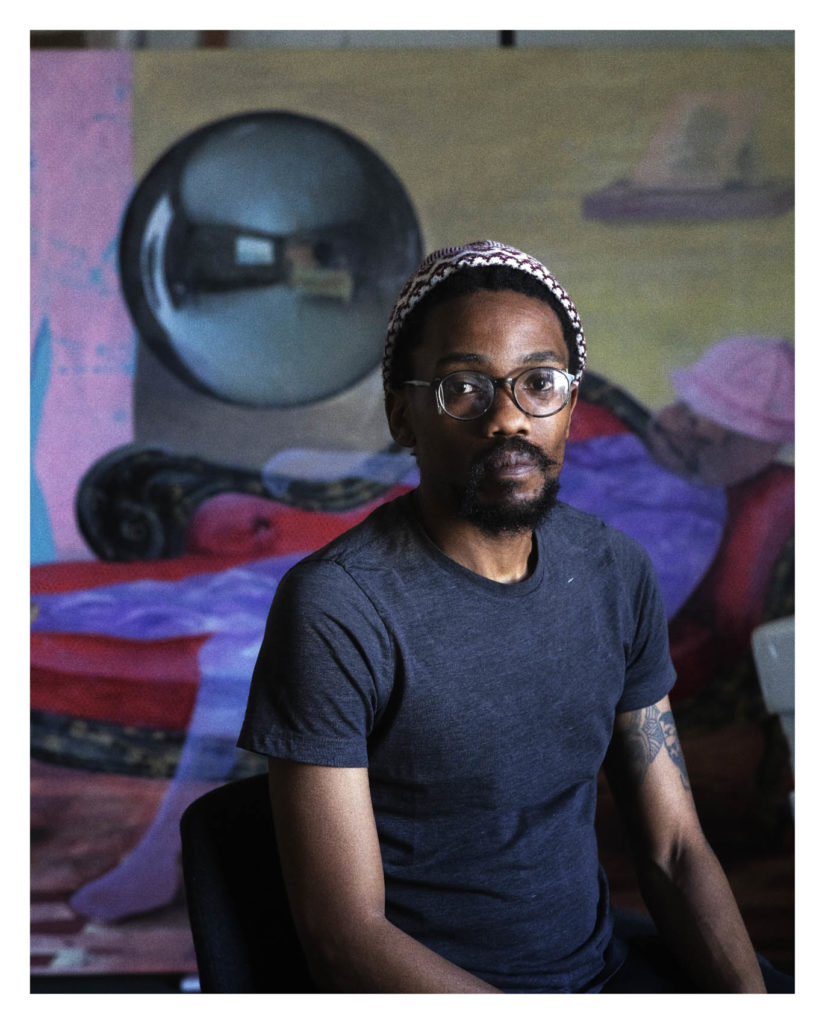 Phumulani Ntuli is a South African multidisciplinary artist working with mixed media collages, sculpture, video installation and artistic research. Born in Soweto in 1986, Ntuli received his Bachelor of Technology in Fine Arts from the University of Johannesburg before obtaining his Master of Arts at the Valais School of Art (ECAV/Edhea) in Switzerland in 2017. His thesis was titled When we down tools we exit through the pinhole, exploring the pauses of archives within the Marikana Archive in South Africa.
Working between documentary and fiction, Ntuli's practice deals with omissions within archives. As he explains: "The continued themes I have explored in my practice have been notions of black futurity, the archive and its tensions. I consistently delve within notions of collective autobiographies and their surrounding social political conditions." Ntuli has exhibited locally and abroad and is recognised internationally by way of numerous projects, awards, residencies and biennales since 2016.
In 2022, his work was selected to be part of the South African Pavilion for the 59th Venice Biennale. In the same year, and after a residency with Atelier Solar, Ntuli opened his first solo exhibition in Spain, entitled Isidleke Sakhiwa Ngezinwele [A Nest is Built with Strands of Hair] at Galería Nueva in Madrid. During Ntuli's first collaboration with David Krut Workshop in 2023, the artist spent several weeks collaborating with Kim-Lee Loggenberg to produce large, complex unique works combining painting and collage while using an old-fashioned printing press.
Phumulani Ntuli working in his studio in Ferreiras Dorp, Johannesburg
Kunanela iphuzu emafini
/ Echoes of the Point Cloud
Kunanela iphuzu emafini / Echoes of the Point Cloud, a new collaboration between Phumulani Ntuli and David Krut Projects, will debut at the FNB Art Joburg Fair in Sandton from the 4th of September 2023. This project showcases Ntuli's first series of intricate unique works on paper made using an old-fashioned printing press in collaboration with Kim-Lee Loggenberg at the David Krut Workshop in 2023, as well as large mixed media collages on canvas from the artist's studio.
Kunanela iphuzu emafini / Echoes of the Point Cloud contains excerpts from South Africa's history of motion pictures in collision with current point cloud data, automation, and synthesis bestowed by Artificial Intelligence. Using devices of cinematic practice and model training as artistic enquiries, these artworks navigate the first South African pioneer film 'Jim Goes to Joburg', produced by Eric Rutherford and directed by Donald Swanson under Swan Film Productions, which was later re-titled as 'African Jim' to contextualise the film for European audiences. The body of work attends to scenes deployed through a black and white cinematic lens, to reenact the South African seminal film tradition within the margins of the changing socio-political landscape. Kunanela iphuzu emafini / Echoes of the Point Cloud searches for alternate ways of seeing, experiencing and navigating the changing city.
The use of collage is significant in Ntuli's practice. Whether through digital language and coding or hand-cutting and arrangement, collage is used to reframe data in the creation of a 'pseudo-reality'. In Ntuli's words "to collage is to process information, through cutting, slicing, joining, displacing, and concealing. It is a performative model of practice to counterfeit, in this gesture creating alternative forms of looking and meaning."
Phumulani Ntuli: Reviving the 'Obsolete'
A futurist is a historian by default. This is because one can't imagine a future without reconciling with the past. Soweto-born multimedia artist, Phumulani Ntuli is hyperaware of this paradox. The body of work presented at the FNB Art Joburg Fair 2023 is reminiscent of the patchwork of cultures and realities that form the vibrant quilt of this country. Undoubtedly, to live in South Africa is to navigate a cultural labyrinth. Like a child taking its first steps, there is a stumbling feeling of a nation that is still trying to find its feet in an ever-changing world. As result we are interrogated with questions such as what place does African tradition have in this digitally dominated world? What is the relevance of these rural landscapes and figures? With the fascinating process of pronto-plate lithography, Ntuli and collaborator Kim-Lee Loggenberg explore these questions.  
The brilliance of Ntuli's opus is that time and space are both central and yet suspended. The past finds its way in the present, and the present seems occultic enough to suggest a distant future. The ability to find temporal and spatial connection across the broad spectrum of history is essential in our complex society. South Africa is still straddling the effects of the colonial system whilst also trying to establish a new narrative. We don't want the struggles of the past to be our continued story and Ntuli's works demonstrate that it doesn't have to be. We can simply use the past to reimagine new narratives, to celebrate traditional emblems and give them a place in our contemporary reality. In support of this notion, the incongruous patterns of different wrapping paper is jolting for just a moment until the absurd blend of colour and image begins to settle into a strange coherence. It's like eyes trying to adjust in the dark until the obscure shapes and shadows make themselves familiar to you. It's difficult to pinpoint how these art works do that exactly. Is it the domestic patterns of the wrapping paper that we're all vaguely familiar with? Is it the pastel tones of the colour palettes that are somehow both arbitrary and emblematic of a 'home' landscape? Whatever it is, there is a clear sense of unifying the fragmentary that allows anyone, no matter their race, ethnicity or culture, to find a relatable aspect. It just takes a willingness to be open to new possibilities of what reality can be. In other words, what if we could adjust our eyes to seeing traditional Africa not as 'another world' but rather as an ingrained aspect of our everyday society? As something that can be futuristic as well.  
In 2021, whilst in residency with the Bag Factory, Ntuli produced a solo exhibition titled A Navigation Guide to Kwanqingetshe, translating to A Navigation Guide to Stagnation. In this body of work, Ntuli tackles feelings of anxiety about the state of South Africa and its future. This reflection incarnates a blend of fantasy, reality, history and futurism. While these elements are continued in the exhibition there seems to be a greater sense of rootedness in these ironically disembodied figures. Stationary heads are the central figures in place of Ntuli's previous bodies in motion, along with a recurring hand in the series of monotypes that seem to say, "I've found something." It appears that the evolution went from searching to settling. Now isn't that a savoury ideal? To finally feel settled in a place instead of lost in it. For over 50 years, this has been the culminating desire of our youth: to feel that this place we call South Africa is home. The cry existed in 1972 with the Soweto Uprising, to 2011 with the Fees Must Fall movement and in 2023's student protests. But for this to be home, it needs to reflect not only where we come from, but where we are and most importantly, where we want to be. 
It's counterintuitive to think that printmaking takes an artist back to their most vulnerable state of creativity. In this state, the artist is at one with the medium. The process is raw and involved. There needs to be a willingness to let these mediums travel, to embrace the likelihood of an imperfect translation from the mind to the plate, and then to the final result. What does this mean for an artist whose medium is primarily digital? Ntuli embraced the new venture of printmaking with a painstaking dedication that made a lasting impression on printmaker, Kim-Lee. She explained that Ntuli does not call his works 'paintings' but rather 'collages.' However, working with printmaking for the first time, he wanted to stay true to its process by ensuring that every impression was made by hand and not digitally incorporated. In doing so, he would laboriously trace the patterns of different wrapping paper onto a Perspex plate, that would then be re-incorporated onto a series of monotypes. Yet, whilst pasting versus painting are two different types of transfers, the process of printmaking somehow gives these two expressions an identifiable connection: 
"Recapping from Isidleke Sakhiwa Ngezinwele, I realised the active performative contours, edges and cuts of material never happens by chance or plan. They happen in between, at a moment when one invites both accidents and order in the making process. One can only come to a sense of revelation when allowing the margins of thought and expression into play. I initially packed all the fragments, remnants, residues, and actions as indexes for the next work." 
This was stated by Ntuli in 2022 after his solo exhibition, Isidleke Sakhiwa Ngezinwele or A Nest is Made with Strands of Hair organized by the Spanish art company, The Collection of Pi Ferdinando. Ntuli's expression of collage is evidently as raw as working with paint on a matrix, where precision and irregularity must find a way to co-exist. The "fragments, remnants, residues and actions" refer largely to his wrapping paper that he packed up and reopened for this current body of work. This act of recycling material is in fact reminiscent of his overall themes. It shows that nothing can truly become obsolete. Anything can be revived. 
To end with brief context, it was when Amé Bell, curator of the South African Pavilion at the 2022 Venice Biennale, met Ntuli that he was brought to the attention of David Krut Projects. As a gallery that prides itself in preserving the cultural richness of South Africa through art, the choice to represent Ntuli is only fitting as he embodies these values with a dedication and ingenuity. Ntuli elevates the tired saying of 'returning to our roots' by taking it a step further: re-establishing our roots. His work encourages us to reimagine our reality, to look around and say: does this reflect a place we'd like to call home?  
FNB Joburg Art Fair, 2023