In June/July 2021, Cape Town-based artist Adele van Heerden spent a month in residency at the David Krut Workshop, making prints and completing works in other media that appear in her current exhibition at Lizamore & Associates Gallery in Fairlands. Unlike many artists visiting the big smoke of Joburg, who produce work that focusses on the gridded, geometric and building-centric urban landscape of the city, Adele sought an urban jungle of a different kind. As a self-proclaimed lover of "human-made spaces which work in symbiosis with greenery and plants" Johannesburg proved to be a feast for the mind and eyes. Joburg is often heralded as the largest man-made forest, and is also home to many a plant-filled nook and cranny. Read on to follow Adele's account of time in Joburg, tellng the story of the inspiration she sought, and the way these images unfolded in the workshop, alongside her paintings.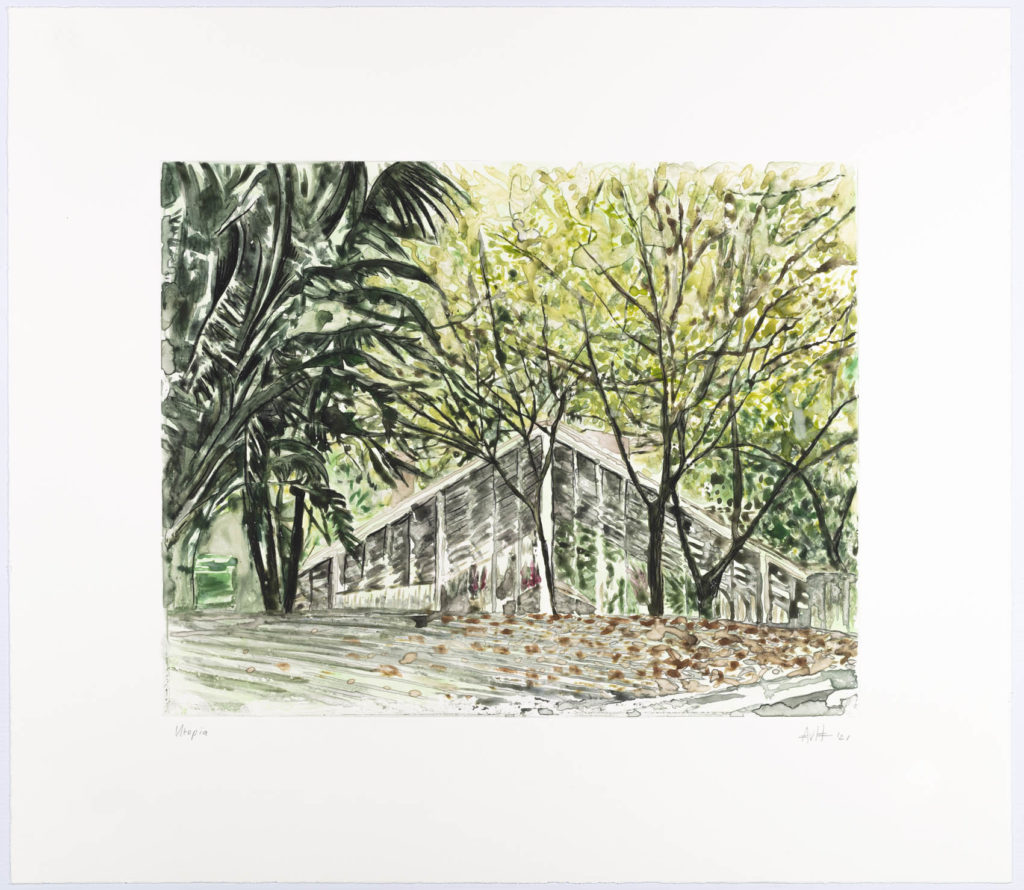 Utopia, 2021
Watercolour monotype with Woody crayon
63.6 x 72.7 cm
R 10 700 VAT Inclusive framed
"One of the first sights I went out to see upon arrival in Johannesburg was the Greenhouse Project in Joubert Park. I was particularly affected by the juxtaposition between the busy, urban setting, with brutalist high-rises all around, and the tranquil space inside the garden and greenhouse. There were even beehives, mirroring the gigantic block of flats (also resembling) beehives just outside the perimeter of the park." 
Field Trip exhibition at David Krut Projects, Johannesburg | 26 March – 21 May 2022
28 June – 4 July
Adele's final week in the studio is a culmination of the work done up until that point, with final monotypes being printed and work continuing on the etching plates. Adele completed her second full bleed print on an extra-large sheet, which takes up the entire press bed.
Adele finished testing etching techniques of softground and drypoint, and printers Roxy and Kim-Lee pulled proofs of all three small test plates layered on top of one another. This allows for Adele to see the layered effects of colour and mark. 
Final colour proofs were pulled of Adele's larger 2 plate intaglio image using the colour printing method à la poupée. The team guided Adele to achieve a beautifully delicate tonal effect similar to her watercolour monotypes and Adele is overjoyed with the results.
If you would like to receive further updates on the launch of the prints please contact us on info-jhb@davidkrut.com.
21 – 27 June 
This week, Adele continues to work on her watercolour monotypes, including some on larger plates, which gives her a different perspective and allows her to hone the layering process that has migrated from her paintings to her prints. Included in the larger format works is a plate that will be printed full bleed on an extra-large sheet, which takes up the entire press bed.
The workshop team set to work printing three of the watercolour monotypes that Adele finished over the weekend. To print these works, the watercolour paint is allowed to dry completely. The paper used is damp when printing as this, along with the pressure of the press, reactivates the dried watercolour and facilitates a transfer. The printer's key responsibility is to ensure that the pressure and dampness of the paper is correct. If the paper is too wet the watercolour will run and transfer in smudges rather than crisply.
This week, Adele also began working with etching, having last engaged with intaglio during art school. The studio team begin to prep copper plates for Adele to create a test image and a two-plate colour etching. 
Plates need to be carefully prepared when working with more than one so that they line up correctly. The process of preparing the plates involves the printer chopping the plate using a big guillotine, then filing down the edges. The copper is also polished to remove any scratches so the artists has, in effect, a blank canvas to start with. The team then applies hardground to the plate and smokes it so that it is reinforced and blackened, making it extra hard and also easier to see the marks made with the etching needle. Adele was keen to assist by smoking the plate.
By Thursday, the ground was laid for Adele to begin work on her etching plates, and started test out marks and techniques on a small copper test plate, working with  softground, hardground, liftground (or sugarlift without the sugar), spit-bite and drypoint. Printers Kim-Lee and Roxy Kaczmarek guide her through the processes, applying grounds and aquatint and directing the appropriate etching times.​​​​​​​
Having built up some confidence and a sense of the different marks she could achieve with the test plate, Adele began to draw her image on a larger plate in hardground, again using images from her visit to the Greenhouse Project next to Joubert Park as a starting point. 
The plate was then etched by Roxy, step biting in 3 stages to create different line. The plate was then inked and proofed by Kim-Lee, so that Adele could see the result of her work, which is always a revealing experience.
Over the weekend, Adele took the opportunity to get out of the city altogether, going on a hike in the Magaliesburg with Heidi Fourie, fellow artist who is equally enthralled with mining the world of plants as reference material for her images.
14 – 20 June
During Adele's second week in the workshop, she moved between work on paintings and work on monotypes. In her monotypes, she begins by drawing using black Woodies – an oil-based, water-soluble crayon that creates a rich line. This creates a base image onto which she can then add layers of colour using paint. To build up vibrant colours, Adele carefully builds up layers allowing the colours to dry in between. To make the most of the time the plates need to dry between layers, Adele works on multiple plates at once, moving between them as they become ready for further layering. She also began experimenting with the same process beginning with a wash, on which she can then draw with Woodies and paint with watercolour.
Over the weekend, Adele sought out another of Joburg's lungs, in the form of The Wilds Nature Reserve, close to the CBD – another wonderful example of how these green spaces jostle cheek by jowl with the gritty reality of the streets that surround them, and an opportunity to gather more reference material for prints.
6 June – 13 June
Adele arrived in Joburg on Sunday 6 June, ahead of a week of settling in at the studio. Her first week in Joburg was defined by settling into the workshop space, where she set up a mini-studio of her own where she could work on paintings, when not engaged with prints. It was also full of the kind of visits that acclimatise visitors to the city, including a trip to the Alternative Print Workshop to meet Dennis da Silva, who also specialises in hand printing, as well as photographic processes.
During the week, loadshedding at the studio presented a good opportunity to explore some of the city, and Adele took a trip with some of the studio team to the Greenhouse Project in Joubert Park. In the heart of downtown Joburg, nestled within the grit, the Greenhouse Project is a beacon of sustainability, utilising green building and design, renewable energy and recycling, and organic food gardening underpinned by permaculture principles to support the surrounding community. It hit the mark for Adele, allowing a valuable insight into the ingenious ways in which plants and people cohabit in the city. Reference images from this visit, replete with the geometric lines of the buildings, softened by an abundance of foliage, served as a base for some of the works produced over the course of the next few weeks.
Toward the end of the week, Adele had settled into a groove of working on paintings for her Lizamore show, which proved an ideal opportunity for the workshop team to gain an insight into her process. Painting onto draft film, Adele works with brush pens on the front and then turns the paper over to apply gouache in layers on the back to build up colour. This process of layering is not dissimilar to the layering technique used in monotype, and so the workshop team began buffing Perspex plates with a thin layer of gum Arabic so that Adele could begin to work on some watercolour monotypes, using images from the Greenhouse Project as reference. The gum Arabic is used to prevent the watercolour reticulating and facilitating the transfer.
Adele's husband Chris came to join her over the weekend and, having completed a bicycle tour of the city on Saturday, they took refuge in Emmarentia park on Sunday, allowing themselves to soak up the contrast in one of Johannesburg's many dedicated open, green spaces.
The Gallery team sat down with Adele van Heerden and asked her to elaborate on her personal experience in the workshop…
David Krut Projects (DKP): What are you enjoying most about working at DKW?
Adele van Heerden (AvH): It's been really great to work with everyone involved at David Krut Projects. The Printers (Roxy Kaczmarek and Kim-Lee Loggenberg) are there every step of the way, creating a supportive environment. They are very good at guiding me and providing valuable insights as we go along. I've also had the opportunity to have some important and meaningful conversations with Ame Bell, the gallery director. There are many, longer term projects on the go at the workshop, and it's been fascinating to see the way they tackle it as a team.
DKP: How are your current surroundings influencing the works that you are working on at the moment?
AvH: I have been really surprised with the amount of natural spaces, gardens, trees and birds in Johannesburg. As an outsider to Johannesburg I've only had the opportunity to visit and discover small "pockets", visiting for about a week at a time. Being here for a month has allowed me to dive a bit deeper into investigating how parks and green spaces function within the city.
One of the first sights I went out to see upon arrival in Johannesburg was the Greenhouse Project in Joubert Park. I was particularly affected by the juxtaposition between the busy, urban setting, with brutalist high-rises all around, and the tranquil space inside the garden and greenhouse. There were even beehives, mirroring the gigantic block of flats (also resembling) beehives just outside the perimeter of the park.
DKP: Could you tell us more about what influences your work generally and which artists inspire you?
AvH: My work is usually a direct response to my environment and the places I visit. Places I encounter on my travels always end up finding their way into my work. Since we've been more restricted with travel in the traditional sense, I've been inspired by smaller, more local curiosities. I walk a lot, so there are always small, interesting things to discover along the way, if you pay enough attention.
DKP: Monotypes are often referred to as painterly prints, how are you finding the medium?
AvH: To create watercolour monotypes you need to see the overall shape and composition of the painting and then build it up, layer by layer. The watercolour wants to flow, pool, and be free to do it's own thing. I can't control it too much and I'm giving a lot up to chance. Painting on the perspex feels very smooth, your brush glides across the substrate. In this way it is actually quite similar to my ink and gouache on film paintings. Then, I have to give it a chance to dry, give my eyes a rest, and then come back to it again a bit later for the next layer. I've really enjoyed rediscovering watercolours as this was my preferred medium in my school years.

DKP: What is the relationship between making monotypes versus your paintings? And what are the most significant differences?
AvH: With my paintings I usually create a line drawing with an ink brush pen first, then start filling in the colours with gouache in a reverse painting technique. This way of painting is very methodical, creating a structure for the image by first introducing line work.
With the watercolour monotypes I avoid line work. I'm often working in more gestural, free motions. Larger brushes feel better than smaller ones. I try to see the image tonalities and shadows as whole. I'll start by creating a one colour base layer, then start adding some shadows and shapes in the form of colour. The image emerges in layers without a black ink structure to tell me where the colours have to go.

DKP: Do you think that the processes you have worked with at DKW will influence your mark making going forward?
AvH: I think it's inevitable that what I learned at the print studio will make it's way into my artistic practise back in Cape Town. I'm hoping to continue being a bit more free and gestural.
DKP: During the first hard lockdown your work focused on interiors, depicting the personal spaces of your friends and community. As the pandemic continues, will you carry on exploring this subject matter? What is the relevance of portraying such intimate scenarios?
AvH: We've been periodically restricted with travel and moving around since the start of the pandemic, and during this time I've been inspired by the everyday scenes of the domestic. I asked friend's and acquaintances to send me pictures of their lockdown experience. A dog lounging on a sunny carpet, a sourdough starter, a cat on a record player, house plants. The smaller, more intimate details of home life fascinate me. In a way painting these scenes are a way of finding a connection with the outside world during periods of isolation and social retreat.